Holistic Signage Services at Metroplus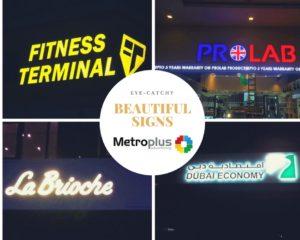 "In advertising, not to be different is virtually suicidal" – Bill Bernbach
We Metroplus advertising pride ourselves in holistically servicing all your advertising requirements with our vast experience and know how supplying world class signage and undertaking installation chores across GCC countries. Moreover we have accessed signage /branding and promotion approvals from authorities such as Tarkhees, Tecom, Jafza, Dafza, Nakheel and RTA across UAE – Dubai, Abu Dhabi, Sharjah, Ajman, Fujairah, Umm Al Quwain and Ras Al Khaimah. We have obtained even vehicle branding approval from RTA.
We specialize in various artworks as follows
Bespoke Signage and Light boxes
Embedding names, text, logos without or without lighting effects with wide range choice of fabricated materials to choose from with light effect finish.
Solid Acrylic letters/Logos/patterns with sturdy, eye-catching 3D looks of Rim and Returns,  Solid face, Translucent Acrylic face Rimless or with Rim
3D Channel letters/logos/patterns: Fabricated with Stainless Steel – Polished, Brushed, Electroplated and UV Lacquered finish as in Gold, Chrome, Bronze, Antique, Black.
Rusty, aged/resto look.
Aluminium Powder coated/PU painted finish
Acrylic Opaque, Translucent, Painted finish
Light effects:
Signs with different lighting styles and effects by LEDs of various  colour temperatures or RGB with controllers
Steel fabricated open channel letters/patterns/logos with LED lighting
Illumination for Translucent Acrylic face, Halo, Side/Returns or a combination of lighting by embedded LEDs
UV printed Graphics on back-lit Translucent Acrylic face matching the original colours of Logos/Letters.
NEON:Traditional Neon and Acrylic Faux Neon (LED) letters, Logos, Patterns
Flat cut Letters/Logos/Patterns:
CNC, Laser system cutting, Stencils, Engraving, Etching with varied types of Materials, Finishing and Thickness.
Letter Logos with Non-lit or back-lit by LEDs
Branding Light Boxes:
MIRRACLELED Slim Light boxes of Magnetic or Flip-frame type, easily changeable Digital printed back-lit films.
"Crystallite" Clear Acrylic Edge-lit Frames with Digital printed back-lit films
Fabric Light Boxes
LED edge-lit Acrylic Lumi-sheets
We also offer our expertise to cater in the area below
Advertising pop-ups, exhibition stands, booths, backdrops
Roll-up stands, display-stands, custom displays and kiosks
External and Internal Way finding Sign Systems
Brochure and business card printing
Flags and banners
Internal signs with stainless steel, brass labels that can be engraved /colour filled or printed
Traffic regulation and pole signs, project site signs , warning /cautions and safety signs
Façade lightings, bespoke light units and UV printed flex face light box/signage
Frosted vinyl with one way vision graphics for glass petitions and façade
Acrylic & steel fabricated structures for signage
Vehicle branding and sticker works
Lit/Non-lit Totem signs
Aluminium Composite Panel Cladding
UV printed or back painted Glass back panels for signage
INSTALLATION:Our experienced team of installers, carpenters and technicians deliver and install everything we make. We work in malls, offices buildings, construction sites , stores, entertainment venues, events areas, hotels or any location your project requires.Gain benefit through our extensive marketing and communication platform for your business, to increase your noticeability and branding.
December 6, 2017
Categories: